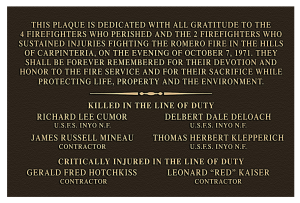 In the late afternoon of October 6, 1971, the Romero Fire began by arson at the Romero Trailhead in the Montecito foothills. By the next day, the fire had pushed into dense chaparral above the coastal town of Summerland. That evening when the fire intensity picked up, three bulldozers operated by six men were attempting to leave the area after having spent the day constructing a fire break. Tragically, four of the men were unable to escape and were killed at the site. The two dozer operators who were able to make it out had suffered critical injuries that subsequently caused their death.
Due to the fact that the incident site was on private property, it was not able to be accessed for the purposes of remembrance of the six dozer operators. At some point in the mid 1990s, members of Santa Barbara County's hand crew secretly placed crosses where the men had been overcome, and in the Spring of 2017, they quietly returned to refurbish and replace those crosses.
Later that year, on the morning of December 10th, the Thomas Fire swept through the same area, destroying the makeshift memorial. The current landowner had learned about the 1971 tragedy from the firefighters who were occupying his property during the Thomas Fire. Thus, the landowner aspired to build a memorial to the fallen men out of gratitude for the successful efforts made by fire crews to save his home. On August 30, 2019, a group of firefighters from Carpinteria-Summerland, Montecito, Santa Barbara City, Santa Barbara County and the US Forest Service, and private citizens, constructed the memorial as it currently stands to finally, and more permanently, honor the six men.
After nearly 50 years since the tragedy, the Romero Fire Memorial was held on May 22, 2021, and welcomed family, friends, and fire personnel to view the installations at Toro Canyon Park and at the incident site. Carpinteria Summerland Firefighters Union 3368 was an integral contributor to the memorial's completion, as were many other surrounding agencies and unions. Money raised at the memorial event was donated to the Wildland Firefighter Foundation.
During the year following the memorial service in 2021, hundreds of firefighters visited the site to pay their respects and had the opportunity to study the events leading up to the tragedy and learn about erratic fire behavior in a wildland-urban interface setting. Carpinteria Firefighters Association hopes to continue to steward future generations of firefighters at potential national staff rides through the area of the 1971 Romero Fire and its memorial sites.